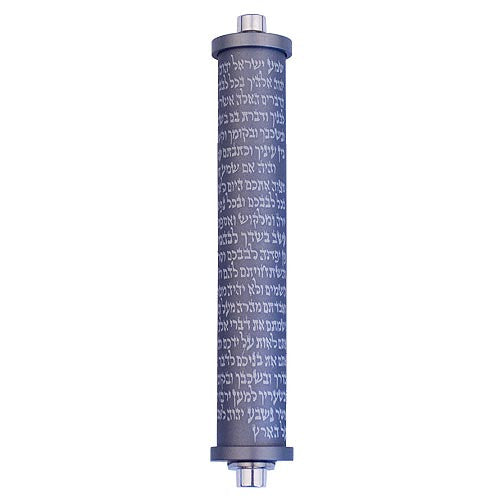 agayof
SHEMA SERIES - MEDIUM - MZ-083
SHEMA SERIES - CYLINDER. The SHEMA mezuzah case is inscribed with the entire SHEMA prayer, and the flow of the text around the cylinder gives this beautiful protective case the reminiscence of a Torah scroll. On the sacred parchment within, both portions of Torah -- the Shema (Deuteronomy 6:4-9) and from Vehaya (Deuteronomy 11:13-21) -- include the verse, "And you shall inscribe these words upon the doorposts of your house and upon your gates."
Size 1 x 6 inches, 2.5 X 15 cm  
X
Every Agayof piece is MADE in ISRAEL and ASSEMBLED in JERUSALEM and only by Avner Agayof, Menachem Berman or Avia Agayof. Agayof offers a LIFE TIME warranty for all its artifacts, a once-a-year complimentary maintenance service and complimentary cleaning, for each artifact.
---
Share this Product